Welcome to Intimate Inquiries
​​Access quality therapy from Anywhere
I offer my services through HIPPA compliant Telehealth.
As long as you have adequate internet or phone service, we can book you for a session from anywhere.

Why tele-therapy?
Convenient : No need to commute. Not in the same state or country and need some support? Teletherapy can help.
Comfortable : From the comfort and privacy of your own home
Confidential : HIPPA Compliant technology
Safe: If you are not feeling well (or there is a global pandemic making physical human interaction difficult), Telehealth provides you the option to keep your appointment.

Technology has allowed therapy to adapt to this changing world and keep my services accessible while also staying safe. Send me an email if you are looking to improve your intimacy, communication or sexual health. Tele-therapy counseling meets you where you are and takes you to the next level of healing, love and intimacy.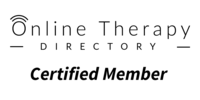 If you are interested in starting our work together, please email my assistant to schedule a complimentary 15 minute phone consultation.
Info@intimateinquiries.com
Auburn is not an on-call or crisis therapist.
If you are in crisis, please contact 911, or go to the nearest emergency room.